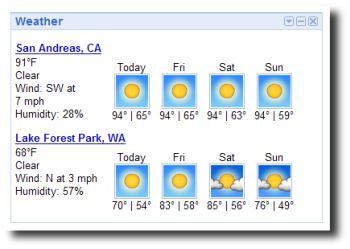 It's happened a bit early this year. Today's high temperature at our house: 100.5 degrees Fahrenheit. Did I mention that it is the middle of May? Good gracious.
Thank you Jesus for central air, ceiling fans, and automatic ice makers. Today I have partaken of all these special blessings, and I am sooooooo grateful.
My handy dandy Google weather icon indicates a forecast with more of the same for the coming week. Our temperatures at Murray Creek tend to run anywhere from five to ten degrees hotter than Google predicts for San Andreas, so we're in for some more scorchers.
The Seattle area, on the other hand, appears to be enjoying perfect Pacific Northwest weather.