Oh hai.  Were you holding your breath, in trembling anticipation of a blog post?  For, like, evar????  I sorry.  Blog was broke, but will blog now (also pleez pardon lolcat silleez.  Iz adikshun!!).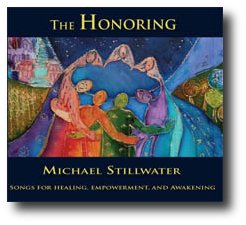 But srsly, as many of you know, one of my grand adventures this summer was traveling to Switzerland to record with Michael Stillwater.  The recording was done at a big pro studio called PowerPlay, located in a charming little town outside Zurich called Maur.  That was back in July, and I've just gotten word from Michael that the CD, which is called "The Honoring," has been released online.
The entire album or individual songs can be downloaded from the site.  Song clips are also available for your sampling pleasure.  If you click on individual song titles, you can find out which ones include my vocal tracks.
"The Honoring" is a collection of spontaneous songs created by Michael in his Honoring Ceremony sessions, in some cases embellished with additional instrumentation and/or my vocals.  The original live recordings used as the base tracks for the album were chosen from the hundreds of songs Michael has collected over the years.  In each, Michael is doing his lovely work of improvising a song at the request of a session participant.  Based on what the person asks for and Michael's intuition and connection to Source, a song is born on the spot, crafted with loving care in the moment for that person.
If you'd like to hear more of my vocals with Michael, check out Feels Like Home, a very cool chant-style song we recorded in 2006.  My vocals are also heard on Michael's live CD O Great Spirit, which is a recording of a Chantwave concert at The Center for Spiritual Living a couple years ago.
Hope u enjoyz da musik!