My wanderings amongst the twisting lanes and streets of Antwerp yesterday took me once again to the Hendrik Conscienceplein, one of the loveliest squares in Antwerp.  I find myself visiting this lovely spot again and again.  Surrounded entirely by charming facades, including the fabulously ornate Saint Carolus Borromeus Church, and ornamented by one large, lovely shade tree, the square is amazingly insulated from car traffic and the noise of the city.  I imagine the quiet and the startling acoustics, with sound powerfully enclosed in the stone confines of the square and magically free of echoes, thanks perhaps to the softening characteristics of the tree, are why I am so often delighted to find musicians performing there.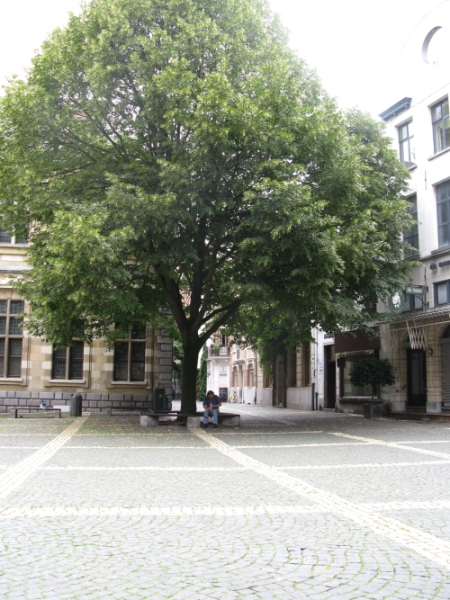 This picture is of the tree, which stands in the northwestern corner of the square.  Yesterday's performer, a lone clarinet player, can be seen on the bench that surrounds its trunk.  He played slow, haunting melodies in rich tones, darkly creamy and sinfully smooth as the chocolate truffles sold nearby.  The collection of jazz ballads, some familiar and some not, suited the overcast day and my mood.  I'll remember his "Stormy Weather" as one of the saddest and loveliest renditions I've ever heard.
Shortly after this photo was taken, three small children came  toddling into the square, darting about and chasing each other.  The two older kids can be seen in this larger photo.  They weren't rowdy or noisy, just curiously checking out the statues and the fountain together.  It wasn't long before the sound of the clarinet caught their full attention.  Drawn closer and closer to the player, their paths converged slowly towards him, as though they weren't sure if it was okay to get near him but unable to resist the shrinking of their orbits, with him as the magnetic force in the center.  Eventually, they all stood a just few feet in front of him and froze there, rapt.  He played and played, swaying and twinkling his smiling eyes at them, encouraging their interest.  When at last the song came gently to an end, the children shook off the spell of their stillness and wiggled and jumped with delight.  Their father (I presumed) beckoned them over to him and gave them each a coin, instructing them to go back and place it in the basket at the player's feet, which they did shyly before running away to resume their adventures.
I took it as my cue, as well, adding a few coins to the basket as I left to resume adventures of my own under the leaden sky, my ears still haunted by the beautiful, sad notes: "Stormy weather… it's rainin' all the time."