I'm having a lot of fun with our new Canon Powershot AS650 IS, the camera I've been lusting after for some time. We got it at Costco, bundled with a photo printer and extra 1G SD card.
One of my favorite subjects is hummingbirds. Here are a couple of the local rowdies.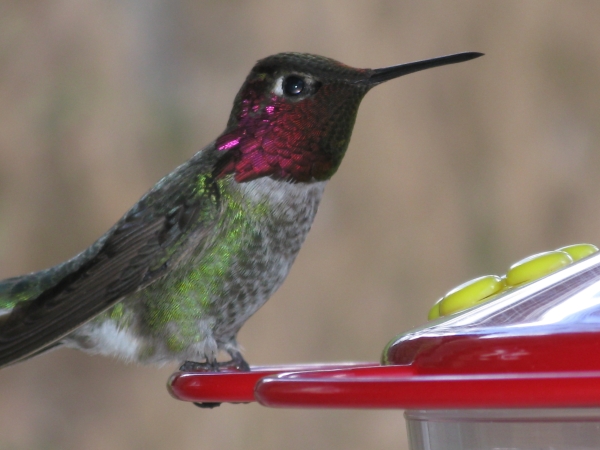 D'awe, look at those teensie feetses! Don't be fooled, however, by their diminutive uber-cuteness. Although neither of these birds is even as big as my thumb, they buzz around sporting some serious 'tude. Hummers are very territorial, and they spend a lot of time and energy chasing each other and trying to be Big Bass Ass Hummer of the 'Hood. The guy with iridescent head literally stands guard in a tree overlooking one of the feeders, attempting to chase off any interlopers by zooming straight at them and cussing them out in high-pitched, electronic sounding tones.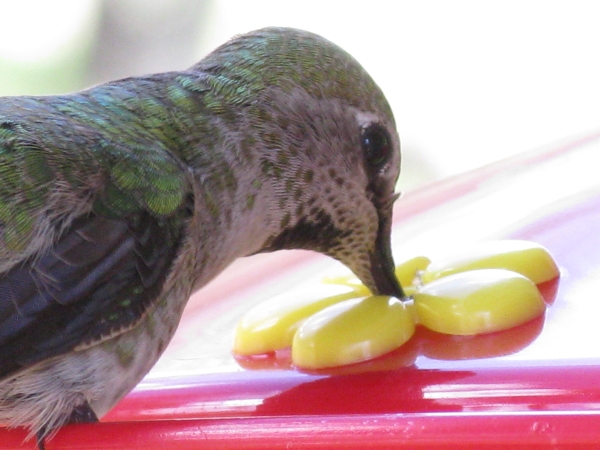 Some of the birds scare off easily. Others just kind of look at him like, "Whatever, dude," and go back to sipping their sugar water.