Following is an excerpt from an email I wrote to a friend in Seattle back on July 7th.
It is an overcast, on-and-off raining kind of day in Antwerp. My upstairs neighbor and I are going to have a coffee (tea for me) at the cafe across the street in a few minutes. Such a luxury to me! I'm enjoying the contrast in city living from our country mouse existence at home. There isn't even a nice cafe in town, let alone across the street! At home, we don't see anyone for days, unless we seek them out. Here, the sight and sound of humans are all around every minute. I think I like both ways of living, and notice that the experience of one deepens the appreciation of the other for me.

At the moment, a group of school kids are trooping by in two neat lines behind their teacher, their giggles and squeals echoing up and down the square and in through the open windows of the apartment. Cars are swishing past on the wet pavement. Occasionally, and unseen pair of high heels lightly clip-clop-clip-clops down on the sidewalk below the windows, a feminine sounding gait. I wonder if she's pretty, or what she might be wearing, but instead of checking to see I let her go past and remain a mystery. There are no shortage of opportunities for people-watching here, so I don't have to be greedy.

Last night, Conal and I had dinner at a lovely Greek restaurant a couple of blocks away. The waiter was charming and chatted with us about America and his first love, who was from New York. There is a huge variety of experience here with people in service positions, everything from haughty to spacey-uncomprehending to absolute charm and graciousness. Our gentlemanly waiter last night certainly fell into the last category. We decided we'd like to go back there, since the food was also excellent. They were out of their vegetarian mousaka, a great reason to go back.
I like remembering life in Antwerp, which is beginning to take on the flavor of a dream. Here is a picture of Oever Street, with our apartment balcony just visible to the left of Jacob Jordaens. Jespers, the little grocery in the white building, and just beyond it the cafe with the red awning, are on the right: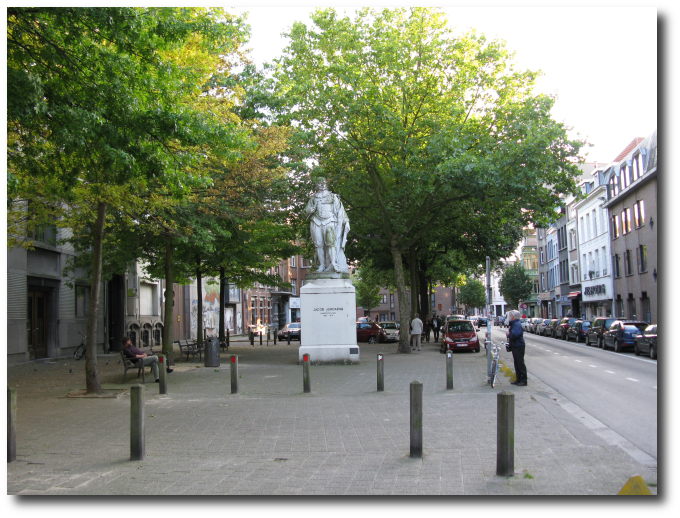 It's crazy quiet here at Murray Creek. The deers are cute and all, and I have my beloved Conal with me of course, but I guess I'm kind of missing the random company of strangers.