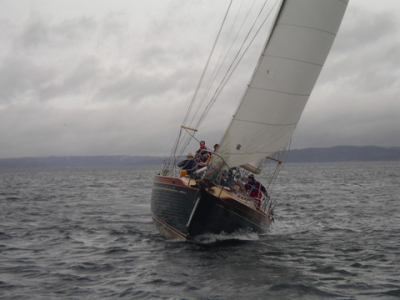 My Uncle Fred, master sailor, all-around good guy, and expert on Croydon family history, poked a hole below the waterline of my personal image the other day, I'm sad to report. He didn't mean to, really. It's just that, as it turns out, I'm not a pirate, after all.
It all started when my sweetie Conal's brother, Joseph, got the Elliott clan interested in Geni.com, an online genealogy/social networking (and may I say, very cool) website currently in beta. In next to no time, Joseph had added relations all the way back to the 1500's! I enjoyed the visual and interactive nature of the site, and got my own family involved in the fun.
Remembering that Uncle Fred had done extensive research and documentation of my father's family, as well as produced beautiful printed family trees and booklets, I checked in with him to find out if he would be interested in contributing information or participating directly in building our family tree on Geni. Turns out he entered his extensive collection of information into a software program that uses standard GENCOM format for genealogy data. The folks at Geni.com have said they will soon allow import of GEDCOM files into their database, so I'm looking forward to being able to see and interact with all that wonderful history Fred researched and assembled.
While reviewing the handful of ancestors that Fred entered manually onto our Geni.com tree, I was surprised to see the name Pengelley only a couple of generations back, in my great grandmother's era. I had always thought of the Pengelley name in association with the family pirate legend, going waaaaay back in time. The rumor I heard had one of the Pengelleys as a marauder off the coast of England in the 1700's. I don't remember hearing any details beyond that, but I didn't care. What I liked was believing that I, a sailor in a family of sailors, had actual pirates in my bloodline! How cool was that?!
Now, even though I reckon that the romance of pirates is mostly hogwash, and that a great deal of harm and cruelty was done by them, I am irrepressibly attracted to the mythical piratical ideal of living outside the strictures of polite society. On a boat. The sailor in me can't help but be fascinated by accounts of fast ships roaming the globe, beholden to no master (save Cap'm!) and having adventures on the high seas, amassing treasure and exploring at will.
Thus, you may be able to imagine how my self-image went swiftly afoul on a shoal of shock to read the following. Uncle Fred explained that these are notes from my great grandmother Ruth Croydon's father, Samuel Mugford Pengelley, in Southall, England, speaking of letters he had written to his daughter:
37 Northcote Ave, Southall On February 11, 1941 wrote to Ruth M. Croydon from 12. Ranelagh Rd., Southall, that his parents were Cornish; and he was born at Plymouth; and went to his grandparents home in a place called Lideford near St Germans in Cornwall. When he was 13 he went to live with his parents who then were living at Bristol, where his father had a factory(clothing). Then they moved to Horwich in Norfolk; then he gave up the business and went to live at Warminster, Wiltshire, where his parents died, and are at rest. "Your mother (Mary Ann Neame) was born at Chatham near Canterbury in Kent." In August 10, 1941 wrote to Ruth M. saying Mugford was his mothers maiden name. He was named after his grandfather, who was a chief revenue officer and a terror to the pirates around the west coast of England. There was a book written about the great fights he had with the pirates. About the Pengellys, we are decedents of Baron Pengelley.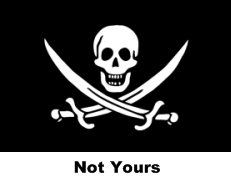 The notes are a bit garbled and hard to track. Uncle Fred spoke of trying to straighten it out but not quite figuring out the connections, as yet. The line that sunk my personal piratical mythology was, "He was named after his grandfather, who was a chief revenue officer and a terror to the pirates around the west coast of England. There was a book written about the great fights he had with the pirates."
Chief revenue officer? My ancestor was not only not a pirate, he was a freaking tax collector???!!! I feel faint.
Talk Like A Pirate Day will never be the same.