Over the last couple of weeks, Dave Bayette's Tree Service has been working at our property as well as Ann's property next door, and the Conklin place further down Murraydale Lane. Dave's got some serious equipment including a monster chipper, a fleet of chainsaws, and a large truck to haul the chipped material, which also features a crane/bucket arrangement for high work in the trees.  This photo shows the truck parked in the valley bottom down by the creek at the old Chinese dam (the wall seen to the left of the truck).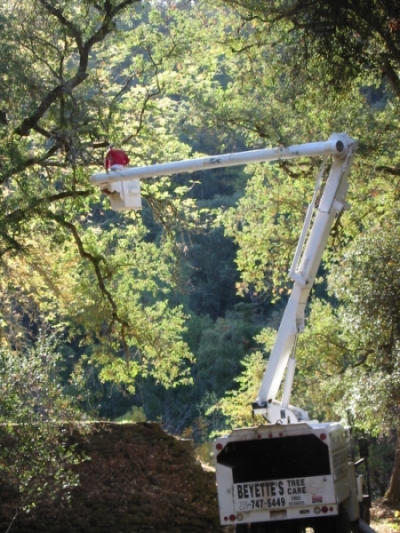 Dave's crew varies based on what needs to be done. At our place, he brought along four workers, one of whom was an experienced climber. The climber is the rather amazing person who goes up in the bucket to get the high limbs, or even crazier, scampers manually up trees with a chainsaw swinging from his belt. I'm completely impressed with the skill of the climbers. I can't even imagine being up that high in a tree without hyperventilating, let alone hanging by one arm, operating a screeching chainsaw with the other, while at the same time managing how the cut pieces fall so that the process proceeds safely and without damaging the ground too much. Or the noggins of the ground crew working below. Talk about multi-tasking… I also enjoyed their knowledge of how trees grow and how best to trim them to encourage healthy growth.
The ground crew works like a well-oiled machine, clearing brush and downed limbs as they accumulate and putting it all through the chipper.  They worked very hard on the hillside below our house. We were able to do some clearing there this year, but these guys really gave us a wonderful jump on our vision of park-like landscaping all through the area. Here is a before shot taken in the morning: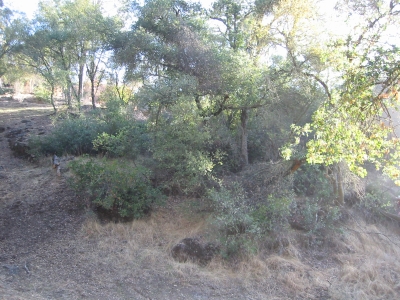 And following is the same area that afternoon after they had cleared and chipped a huge amount of material, which they spread around the meadows as chips and mulch that will eventually disappear as it decomposes into lovely dirt. Sweet. Now the cleared areas will be easy to weed-eat and keep tidy and — wait for it — fire safe!!!!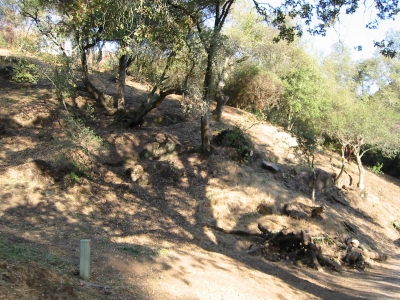 Conal and I variously pitched in hauling and dragging branches and brush, sawing, and sitting around appreciatively watching the guys work. At one point, we were watching admiringly as Dave skillfully maneuvered the bucket up and around in the high canopy of a giant oak, working the crane's angles to put himself in just the right spot for his next cut. It's motion reminded me of the gut-clenching swing of a ferris wheel, only going in all directions instead of a nice, predictable circle. The other climber walked by us and I exclaimed to him, "You could charge admission for this show!" He grinned and replied, "Yep. The tree circus," and headed off to refill his saw with fuel.
Dave works as hard if not harder than any of his crew. Here he is sawing away at an uprooted oak near our house that partially burned in the fire this past spring: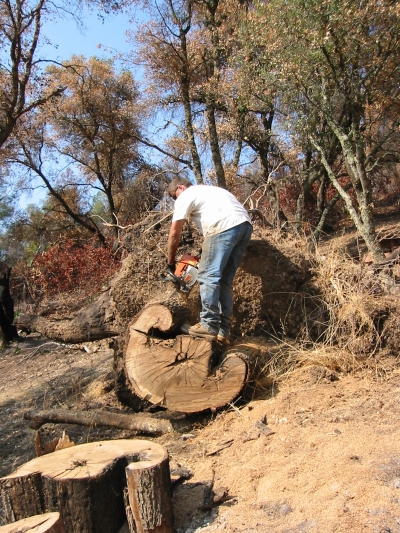 I think we made friends. The crew seemed to enjoy our company and help, chatting and cheerfully answering our endless questions about trees and saws and what have you. The chocolate chip cookies I baked for them were also a big hit. We're looking forward to having them back again soon.